US nonfarm payrolls rose 339,000 in May, with unemployment beating estimates by 0.3% at 3.7% to complicate June's Federal Reserve (Fed) policy move.
Average hourly earnings dovetailed with estimates, rising 0.3% month-on-month, while the number of new jobs created in April was revised upward to 294,000.
Experts Agree US Jobs Market is Still Resilient
The new numbers take the three-month average of nonfarm payrolls to 283,000 and mark the 29th consecutive rise in US nonfarm jobs.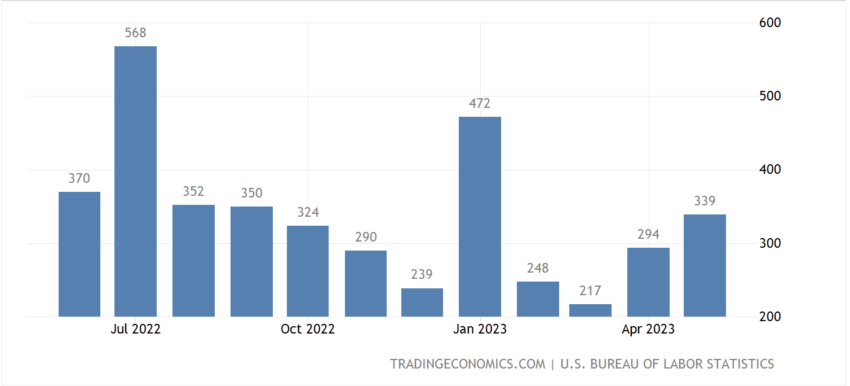 Bill Adams of Comerica Bank said in the lead-up to the news,
"The job market is still quite solid, but not red-hot like a year ago."
Economist Mohamed A. El-Erian affirmed this viewpoint on Bloomberg TV this morning.
"The US is a major engine of job creation."
Professional services led job creation with 64,000 new jobs, followed by the government employing 56,000.
The release of May's jobs report saw two-year yields rise five basis points, while returns from 10-year treasuries rose 3%. While strong job numbers pressure markets expecting more Fed interest rate hikes, equity futures recorded intraday gains.
S&P and Nasdaq 100 futures were up 50 basis points in premarket trading, while the Dow Jones Industrial Average rose 220 points.
Bitcoin (BTC) held steady at just below $27,000, while Solana recorded the highest intraday losses at 0.7%. 
Fed Must be Consistent, El-Erian Says
The Federal Reserve considers consistently strong job numbers and abnormal wage growth signs of persistent inflation. While wage growth slowed compared to last month's 0.4%, robust May inflation, and jobless claims may pressurize the central bank to continue rising rates.
Bitcoin fell from $30,000 to its current level after the Fed narrative changed from a pause to possible further hikes. The bank has increased rates by 500 basis points in the past 14 months.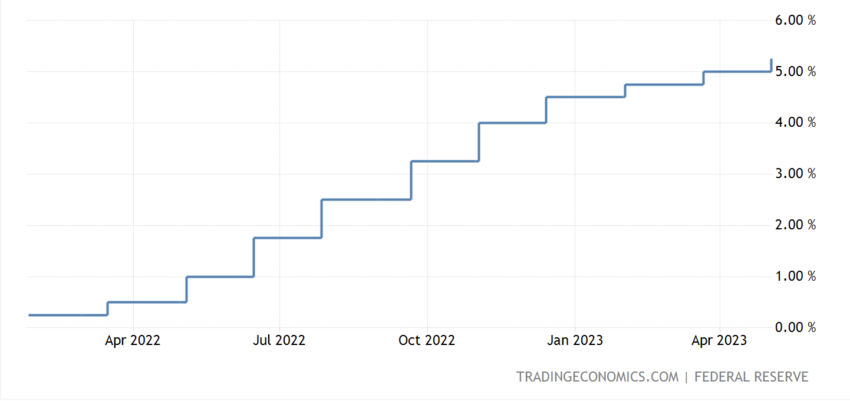 El-Erian said the Fed should increase rates to remain consistent with its goal to bring inflation to 2%. April's CPI numbers revealed that consumer inflation was still well above that target at 4.9%. 
The central bank will announce its next policy move when it meets on June 13-14.
Another factor likely to influence markets is ratifying a new US debt ceiling deal later today. 
The US Senate passed a new bill to suspend the country's debt ceiling limits until January 2025. US President Joe Biden will address the nation on the new bill from the Oval Office later on Friday.
For BeInCrypto's latest Bitcoin (BTC) analysis, click here.
The post Bitcoin Holds Steady at $27K Despite Higher Nonfarm Payrolls appeared first on BeInCrypto.