Despite falling record-high interest rates in the United States, Europe, and the U.K., Bitcoin was relatively steady in September and added 4.7%. At this pace, the coin posted one of the strongest performances since 2012 and 2016, when BTC rose 23.5% and 5.7%, respectively. 
Bitcoin Rose In September Despite Attractive Interest Rates
Trading at around the $27,300 zone when writing on October 3, Bitcoin is up roughly 10% from September lows, and traders are confident that the next leg of higher highs has just begun, considering the strong upswing in late September, which was confirmed in early October, translating to a strong start for Q4 2023.
According to Kaiko, Bitcoin is "firm" even though fund rates are relatively high and conservative investors, including institutions, are drawn by governments offering what the analytics platform says is a "risk-free" yield. For perspective, the United States government raised rates rapidly throughout 2022 and the first half of 2023 to curb surging inflation.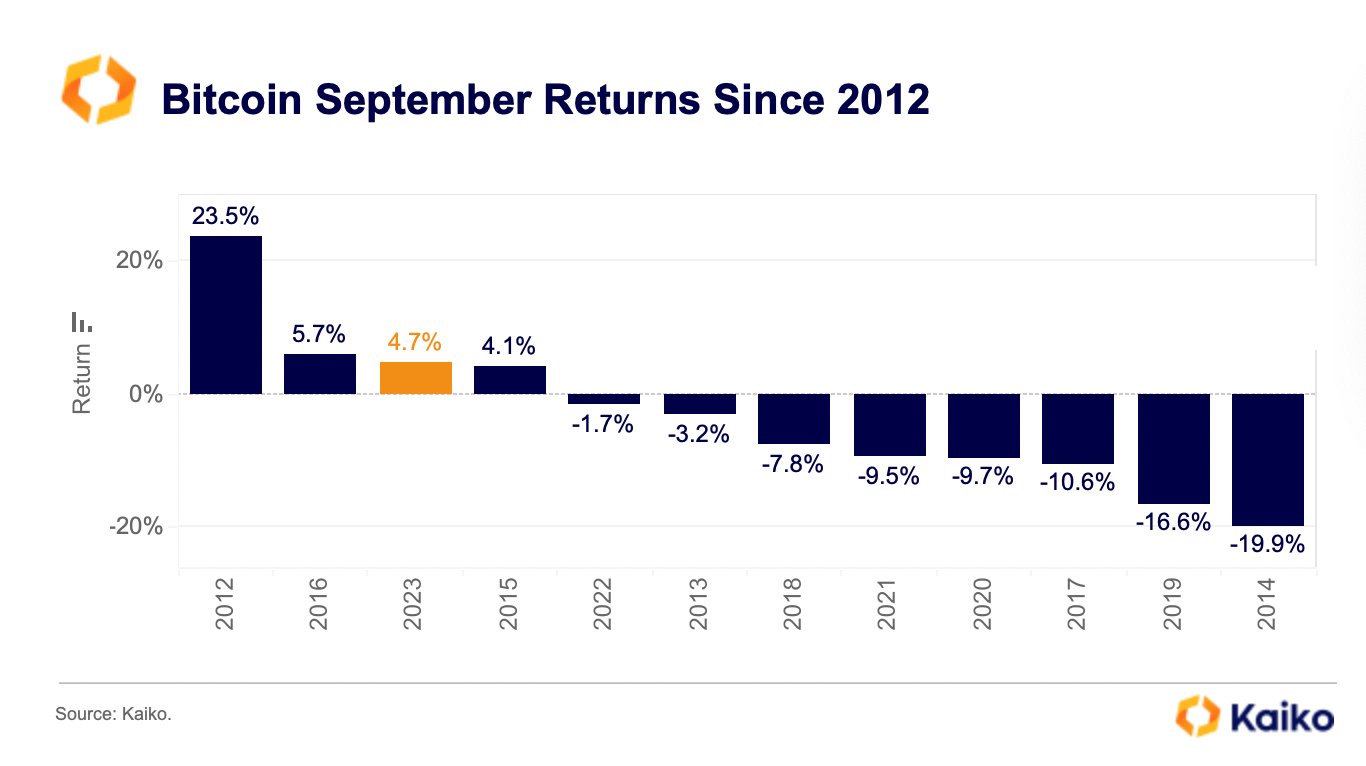 With every basis point increased, regional banks were strained, with some filing for bankruptcy in Q1 2023. Moreover, capital, which would otherwise flow to crypto, is re-directed to the bond and treasuries market because of the generally high but safe interest rates. 
As of October 3, the U.S. Federal Reserve maintained interest rates between 5% and 5.25%. On the other hand, inflation rose to 3.7% in August after falling steadily after peaking at 8.2% in September 2022–the highest in roughly 30 years.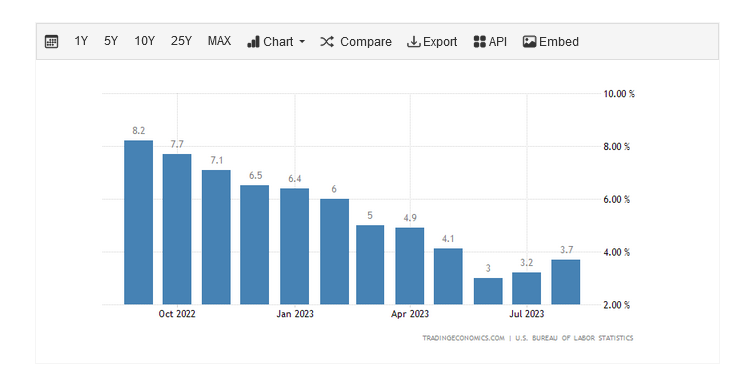 Ideally, the Federal Reserve plans to maintain inflation at around the 2% benchmark. As such, with rising inflation, the odds of Jerome Powell, the chair of the Federal Reserve, increasing rates in the next meeting remain high, a move that can significantly impact crypto liquidity and prices of top coins, including Bitcoin. 
In 2022, when the Federal Reserve raised rates, Bitcoin prices tumbled from 2021 highs, sinking below $16,000 in November 2022. Dropping crypto prices adversely affected crypto platforms as top exchanges, including FTX, filed for bankruptcy.
Fitch Downgrades U.S. Treasuries 
U.S. treasuries are often considered risk-free and safe because the government's credit backs them. This means that the government is committed to paying back the debt and its yield timely and in full. The U.S. government has not failed to repay its debt so far. 
Last August, Fitch Ratings lowered the credit rating of the U.S. government from AAA to AA+. The ratings agency predicted that the situation would worsen over the next three years. Fitch also expressed concern about the deteriorating governance related to fiscal and debt matters over the past few decades.