As Bitcoin wrestles with the prevailing bearish momentum, all eyes are on the upcoming Non-Farm Payroll (NFP) data – one of the most eagerly-anticipated events on the economic calendar.
This data release has the potential to jolt Bitcoin's value in either direction – with some analysts speculating that $BTC could hit $30,000 if the release is a bullish one.
However, Bitcoin isn't the only crypto that could explode due to NFP – and investors are already eyeing up several other new coins that have the potential for significant price movements.
Bitcoin Investors Anticipate the Key Impact of NFP Data Release
NFP data is scheduled to be released at 8.30am EST today, with investors eager to find out how the US job market has been performing over the last month.
Preliminary reports have emerged that the US is expected to have added 190,000 jobs in May, with the unemployment rate forecasted to be 3.5% – slightly higher than April's figure.
The Average Hourly Earnings metric is also projected to be a hot topic for discussion, as any movement here could increase the likelihood of aggressive decisions from the Fed.
Due to this, today's NFP release is sure to have significant implications for Bitcoin's price.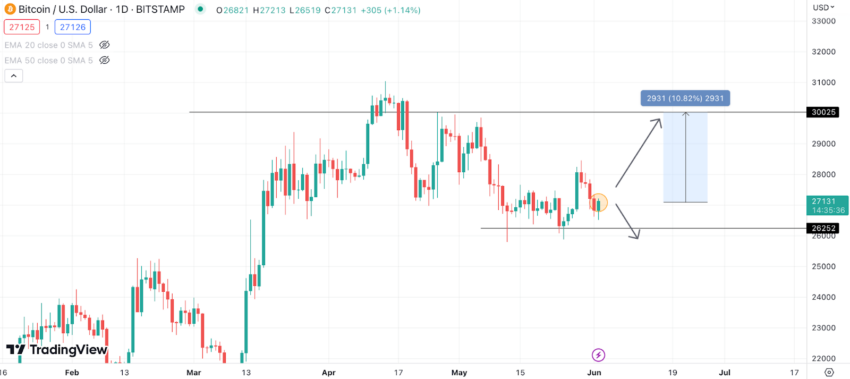 If job growth comes in higher than expected, it could raise concerns about a potential resurgence of inflation. In turn, this could play a role in the Fed's monetary policy decisions – leading to further interest rate hikes.
This would put additonal pressure on Bitcoin since "riskier" assets like cryptocurrencies are often less appealing to investors in a high-interest-rate environment.
On the other hand, if the NFP data shows a cooling US labor market, it will increase the likelihood of a Fed "pivot," – which is a bullish signal for Bitcoin.
For this reason, many analysts are forecasting that a positive NFP release could catalyze a $BTC revival, helping price cross the crucial $30,000 barrier.
Therefore, investors around the globe are keeping a close eye on this critical data release, given its importance in shaping Bitcoin's short-term price trajectory.
Wall Street Memes Presale Explodes in Popularity & Raises $2.6 Million
While all eyes are trained on the NFP release and Bitcoin's potential reaction, several other exciting developments are happening in the crypto market.
One of the most talked-about developments is the recent launch of the Wall Street Memes ($WSM) presale – which has already raised a staggering $2.6 million in just one week.
Given the ongoing bearish momentum in the broader crypto market, this incredible early success has stunned the investment community.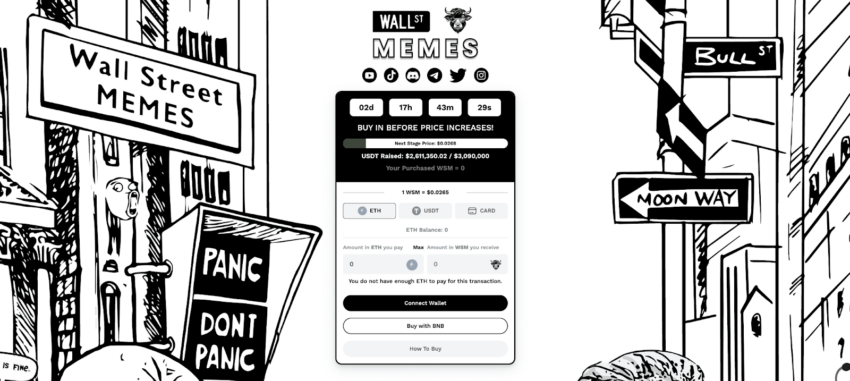 Wall Street Memes' presale has attracted massive investment in the face of this bearish wave, mainly due to the strength of the project's community.
This community, comprising over 1.1 million people, has been around since the launch of the Wall St Bulls NFT collection – which sold out back in 2021 and raised $2.5 million for the creators.
Wall Street Memes' community has grown in stature since then, leading to interactions with several high-profile individuals – most notably, the billionaire meme enthusiast Elon Musk.
Now that the team behind the community has launched the $WSM token, there's a growing belief that the project could become the next big thing in the meme coin space.
Currently, Wall Street Memes is in Stage 6 of its 30-stage presale, meaning early-bird investors can buy $WSM tokens for just $0.0265, ahead of the exchange listings planned for later this year.
Visit Wall Street Memes Presale
AI-Powered Analytics Platform yPredict Set for Bull Run
Another crypto that analysts predict could explode in the coming weeks is the crypto analytics platform yPredict ($YPRED).
Like Wall Street Memes, yPredict is in a successful presale phase, which has seen the project raise nearly $2 million in funding.
However, rather than being a meme coin like $WSM, yPredict is a fully-fledged blockchain ecosystem designed for traders, analysts, developers, and quants.
According to the project's whitepaper, yPredict's developers aim to create an all-in-one AI-powered platform containing everything traders need to succeed in the market.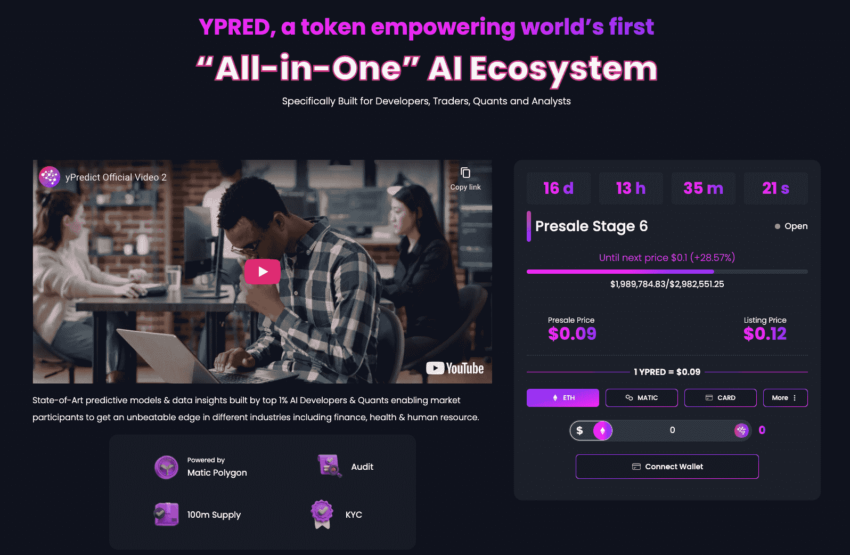 This includes an array of high-powered trading tools and a custom-built marketplace where AI experts can list advanced price prediction models that retail traders can subscribe to.
A big part of the ecosystem will be the $YPRED token, which is required to access the full suite of yPredict's features.
$YPRED holders can also stake their tokens to earn up to 45% quarterly staking rewards derived from fees taken through the price prediction model marketplace.
yPredict's value-driven setup has piqued the interest of investors worldwide, leading to a vast influx of new members to the official Telegram channel.
Currently, investors can buy $YPRED tokens through the ongoing presale for $0.09 – a discount to the intended exchange listing price of $0.12.
Eco-Friendly Platform Ecoterra Draws Investor Attention After Raising Over $4.5m
Finally, investors are also eying Ecoterra ($ECOTERRA), given its clear focus on sustainability.
Put simply, Ecoterra is an Ethereum-based ecosystem that aims to promote the act of recycling by providing tokenized rewards.
As noted on the project's website, this will be achieved through the Recycle2Earn app. This mobile app rewards users with $ECOTERRA tokens every time they deposit materials in a Reverse Vending Machine (RVM).
Per the Ecoterra whitepaper, app users can also earn $ECOTERRA by powering their homes with renewable energy sources, like solar, and donating old clothes to a list of approved retailers.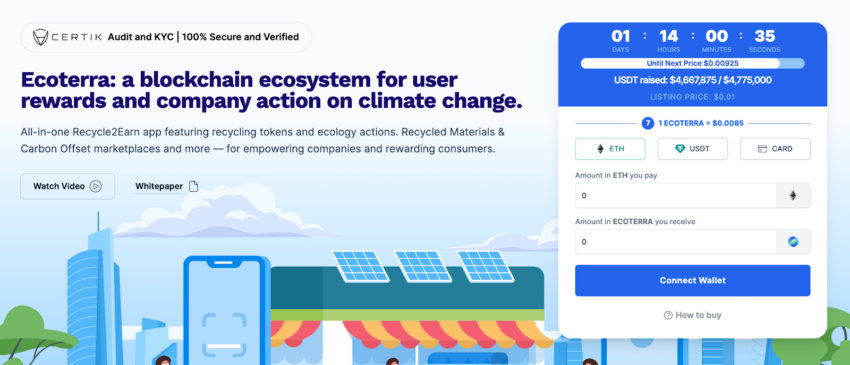 These $ECOTERRA tokens can then be used to purchase carbon offsets from Ecoterra's marketplace – making it easy for individuals to offset their carbon footprint.
In addition to these features, Ecoterra will also feature a recycled materials marketplace, where businesses can seamlessly purchase used materials using $ECOTERRA and other prominent cryptos.
This holistic setup has got the investment community buzzing, leading to over $4.6 million being raised through the project's presale.
Those seeking involvement in the Ecoterra project can still buy $ECOTERRA tokens through this presale, priced at $0.0085.
The post How will Non-Farm Payroll affect Bitcoin price? These Cryptos Might Explode appeared first on BeInCrypto.